Multi-Hearth Electron Beam Source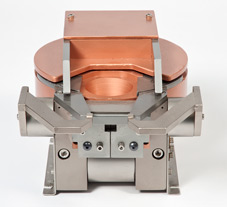 The Multi-Hearth Electron Beam Source is a heavy duty source offering large hearth capacity, high deposition rates, long filament life, and industrial reliability for R&D or production line applications. The source has four (4) crucibles which can be rotated into position either manually or automatically. The source is designed to operate at input power levels up to 12 kW. The 270° bent beam design permits complete shielding of the filament from evaporated material and falling debris and protects "line of sight" to the substrates. The source is also equipped with a water-cooled trap and permanent magnet for greater operating efficiency and safety. The electron beam can be swept in both the X and Y axis for optimum evaporation.
FEATURES
Four (4) Large Pockets — Up to 40cc
Interchangeable Crucibles
Bent Beam Design for longer filament life
High Operating Efficiency
X-Y Sweep Capability
SPECIFICATIONS
Required Power
115 VAC or 230 VAC, 60 Hz
Output Power
Maximum Power
12 kW
Emission Voltage
10 kV
Emission Current
Up to 1.2 Amps
Efficiency
In excess of 99% of Beam Power into Hearth
Beam Characteristics
Type
270° Beam
Spot Size
0.375″ x 0.375″
Sweep
Longitudinal/Lateral with Sweep Controller
Required Power
Source
410 kV, 01.2 A
Filament
08 VAC, 40 A
Cooling Water
2 gpm, 30 psi Pressure Differential
Required Operating Pressure
Below 2 x 10-4
Maximum Bake-Out Temperature
250 C with water on
Hearth Characteristics
Material
OFHC Copper
Dimensions*
Truncated 30 Cone: 2.0″ x 1.50″ x 0.92″ (Top x Bottom x Depth)
Capacity
Up to 40cc
Liner
As Required
Overall Dimensions
5.0″ x 6.0″ x 7.5″ (HxWxL)
(127 mm X 152 mm X 191 mm
Weight
22.5 lbs.