Sensor Heads and Crystals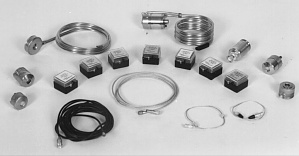 YTI offers quartz crystal Sensor Heads for all your deposition monitoring requirements. The sensor heads are compatible with all crystals and controller / monitors. The sensor heads are machined stainless steel with a 1/8 " water channel for cooling lines. The quick change crystal holder eliminates the need for special tools or handling of crystals. A complete line of accessories is available for both sensor heads.
YTI also offers a complete line of new replacement quartz crystals. Custom crystals can be provided for most thin film monitor applications. We stock Sloan, Sycon, Kronos and Inficon compatible patterned crystals in 4 MHZ, 5 MHz and 6 MHz designs.
Please call for a full description of components available and current pricing.
SPECIFICATIONS
Description
Sloan type analog and digital crystal sensor heads
Dimensions
0.97″ x 2.10″
Connections
Electrical
Microdot Coax Connector
Water
1/8″ Water Channel
Mounting
10-32 x 5/8″ Stud
Crystal Type
0.490″, 5 MHz Sloan Type
0.540″, 6 MHz Inficon Type
Accessories
Water Lines
Heat Shields
Remote Oscillator and Cables
External and Internal Cables
Vacuum System Feedthroughs